Adding the next million electric vehicles will take just over six months, according to Bloomberg NEF.
Buckle up. Electric vehicle sales are shifting into high gear.
Cumulative passenger EV sales worldwide are set to hit 4 million this week, according to Bloomberg New Energy Finance. The next million EV mark could be reached slightly later if Tesla Model 3 sales slow down, the firm noted. But even then, the milestone would still be well within sight.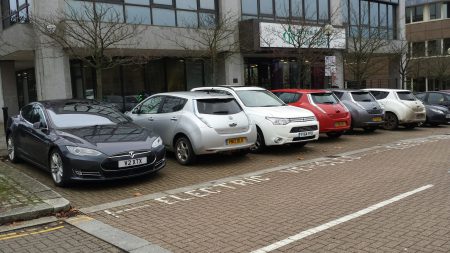 Including electric buses, the 4 million threshold has already been reached. At the end of June, there were more than 3.5 million passenger EVs sold globally and about 421,000 electric buses, bringing the total number of EVs sold to 3.97 million.
Sales were driven in large part by China, which is responsible for around 37 percent of passenger EVs sold around the world since 2011 and around 99 percent of e-buses.
EV sales are accelerating, Bloomberg NEF figures show. It took 17 months to go from the first million to the second million EV sales milestone, and just six months to go from the third million to the fourth million milestone.
Bloomberg NEF projects it will take just over six months to sell the next million EVs, reaching the 5 million milestone in March 2019.
Read more: Greentech Media