We no longer sell electric cars. Instead we can help you with solar and home battery storage.
What our customers say
Jonathan (Swindon):
"Throughout the process of enquiring and then purchasing the Zoe, I received constant communication and brilliant advice on every aspect of my new car. Within two months of making my decision I received my Zoe, and I LOVE it!"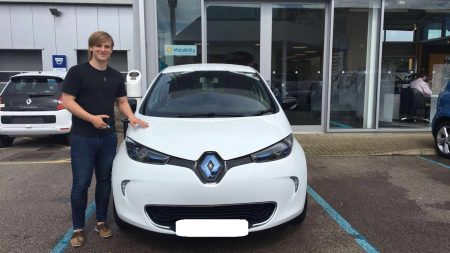 Matthew (Huntingdon):
"Fuel Included gave me expert and easy to understand advice. They helped me to evaluate the options for both cars and the type of charging points available, and to run through the various possibilities for financing the purchase without being too assertive or condescending.  Through using Fuel Included I have chosen the right Electric Car for my needs. The PCP lease meant I could try it for a short period without risk, however, I am six months in and love my Electric Car!"
Ian (Newcastle):
"I was looking for my first electric vehicle as a company car. I decided I needed to use a lease company that had knowledge of these cars. Having done some research I contacted 'Fuel Included' and have been very impressed with the service that I received. If you are in the market for an EV or a PHEV then I recommend that you contact them."
Nathan (Leicester):
"The switch to an electric car was made incredibly easy by the 'Fuel Included' monthly payment for both the car and the fuel, as this allowed the savings to become incredibly clear. In terms of the car itself, having the 'pre-heating' function is a real advantage (especially on the cold December and January mornings). I wholeheartedly believe that electric cars are the future and that Fuel Included are the best people to help make that transition."
Three BIG reasons to find your electric car with Fuel Included