From October 25th 2021, the London ULEZ will extend to the North (A406) and South (A205) Circular roads. Diesel vehicles must comply with Euro 6 emission standards, while petrol vehicles must meet Euro 4 standards to avoid the ULEZ charge. The expansion will attempt to improve London air quality and fight transport emissions – the largest polluting sector of the economy.
Lombard wants to raise awareness of the upcoming ULEZ changes and the impact this will have to London SMES.
KEY FINDINGS
• Transport remains the largest emitting sector, responsible for 28% of all greenhouse gas emissions in the UK in 2018, almost entirely through CO2 emissions
• Out of 4.53 million light commercial vehicles (LCVs) in the UK, 61% are based inside the capital. That's 2.77 million in and around London daily
• To date, pure-electric models accounted for 6.4% of total new car registrations. Plug-in electric vehicles (EVs) make up 7.7% of all new cars sold
• 96.2% of vans on the road are still powered by diesel
ENERGY CONSUMPTION 27x HIGHER FOR DIESEL LCVs THAN FOR PETROL
• Transport emissions are only 3% lower than in 1990, due to increased road traffic. While emissions from passenger cars has generally decreased, this has been offset by increased emissions from LCVs
• The 2,77million LCVs in London would release an approximate of 844,850 tonnes of CO2
• In the capital alone, the road energy consumption for diesel LCVs in 2018 was 27x higher than for petrol LCVs. Diesel LCVs in London, consumed 403,982 tonnes of oil
• HGVs consumed 6,772,424 tonnes of oil in 2018. That's the weight of around 376,245 packed London Routemaster buses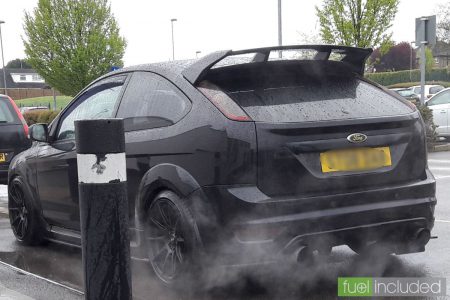 39 MILLION TREES NEEDED TO OFFSET LONDON'S LCV CO2 POLLUTION
• A mature tree absorbs CO2 at a rate of 48 pounds per year. In one year, an acre of forest can absorb twice the CO2 produced by the average car's annual mileage
• London has around 8 million trees, covering 330km (21%) of the city's area
• It would take 39 million trees to absorb London LCVs' CO2 emissions
• This would cover 1,609km on top of the current area of London, bringing the total area to a whopping 3,181km
ONE VAN COULD COST £3,000 A YEAR FOR BUSINESSES WITHIN ULEZ
• Vehicles up to 3.5 tonnes will have to pay £12.50 if emission standards are not me
• HGVs with diesel engines not meeting Euro 6, will have to pay £100 to enter ULEZ
• A sole trader with one van can expect to pay upwards of £3,000 a year if operating a business within ULEZ
• Bus and coach companies could be affected the worst, as a fleet of 15 heavy duty engine buses could cost upwards of £500,000 a year to run in the extended zone
Read more: Lombard
It's Time to Go Green!
If you would like to know more about Solar Panels and the PowerBanx range of home battery systems, and get a free instant quote, please complete our online form: