Leading car buying website says the zone has upped interest – particularly for plug-in hybrids.
The introduction of London's new ultra-low emission zone (ULEZ) has triggered consumer interest in electric and hybrid cars, according to one of Britain's leading new-car websites.
Designed to improve air quality in the capital, the ULEZ sees vehicles failing to meet the required emissions standards charged extra to enter the Congestion Charge zone. Petrol-powered cars must comply with at least the Euro 4 standard to avoid the £12.50 charge, while diesels need to meet the much more recent Euro 6 standard.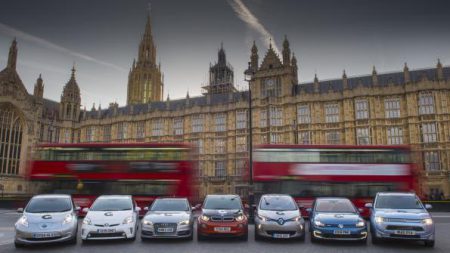 Figures from Carwow show how the ULEZ's arrival earlier this month caused noticeable spikes in Londoners' searches for electric, hybrid and plug-in hybrid vehicles. Inside the M25, Carwow says quote requests for plug-in hybrid vehicles risen 25 percent since the beginning of April, while interest in electric cars has risen 14 percent. Demand for standard hybrid vehicles, such as the Toyota Prius, also increased, but only by around six percent.
Read more: Motor1