Sunderland Plant's Christmas decorations are powered entirely by vehicle's vehicle-to-grid technology
Nissan is marking its electric milestone in lights, as it celebrates the 250,000th Leaf electric car rolling off its production line with a dazzling festive display.
The motor manufacturer is using electric vehicle technology as the sole power supply for its Christmas decorations at the entrance of the Washington production site, with a Leaf rigged up to tree lights to power them. Star of the show is a 32-foot high Christmas tree.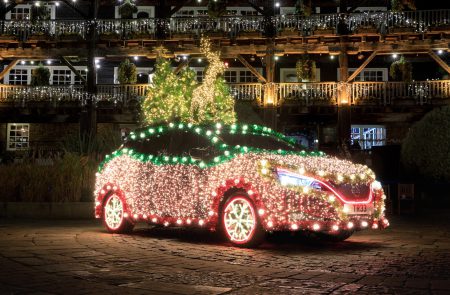 Nissan began building the Leaf EV at the Sunderland plant in 2013, and this year started to produce electric versions of the Qashqai and Juke models.
Read more: 'Totally unacceptable' MPs fury over Northern Rail's decision to close Sunderland station over Christmas
Like many of the latest electric cars on the market, the current Leaf has vehicle-to-grid – or V2X – technology, meaning it can become a mobile power supply for household products, which Nissan decided to demonstrate by using the Leaf as a power source for its festive display. The V2X system allows drivers to use electricity stored in their vehicle's battery to power a variety of appliances, including a fridge-freezer, laptops and kettles, by using a three-pin plug converter that slots into the charging socket.
Read more: ChronicleLive
It's Time to Go Green!
If you would like to know more about Solar Panels and the PowerBanx range of home battery systems, and get a free instant quote, please complete our online form: