InstaVolt has completed a food and drink chain hattrick as it announces a new partnership with Costa Coffee.
Over 200 rapid electric vehicle (EV) chargers are to be installed at Costa Coffee Drive-Thru locations across the UK, offering charging speeds of up to 120kW.
InstaVolt's 'open charger' model enables any driver to use its charging points on a pay-as-you-go basis, upping visibility and ease of charging.
It builds on the existing 176 chargepoints already in operation across selected Costa Coffee locations in the UK, and follows InstaVolt signing partnerships with fast food giants KFC and McDonalds.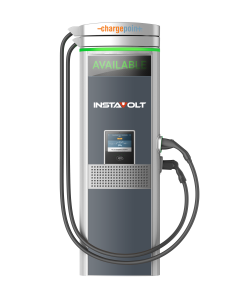 InstaVolt's chief executive officer, Adrian Keen, made reference to what he described as "one of the biggest barriers" to EV uptake, with this being the perception that there is a lack of public chargers.
"EV charging needs to 'slip in' to customers everyday lives, and by partnering with Costa Coffee, we're able to take additional steps towards combatting range anxiety in the UK," he added.
The new partnership comes in a busy period for the EV charging firm, having achieved a record month in March for installations, coming in at 62 rapid chargers set live.
In the same month, InstaVolt laid claim to the UK's largest public rapid charger motorway hub, with the eight-bay hub located at Welcome Break's service area on the northbound carriageway of the M6 at Corley in the Midlands.
Current± caught up with Keen to discuss the hub as well as how the partnerships with big name brands are "fundamental to our business case".
Last month, InstaVolt also become the latest charging network to be available to drivers through EV subscription service Onto, with access to all 2,000 chargers on Onto enabled through an RFID card.
Read more: CURRENT
It's Time to Go Green!
If you would like to know more about Solar Panels and the PowerBanx range of home battery systems, and get a free instant quote, please complete our online form: