The three new 50kW chargers, located at Maidstone Eclipse Park in Kent, are the first of a five-store trial. They are backed by 100% renewable electricity and feature contactless payment terminals and connectors for all capable EVs.
They form part of BP Chargemaster's Polar network of public chargers, and are therefore also accessible with a Polar Plus membership RFID card or the Polar Instant PAYG app.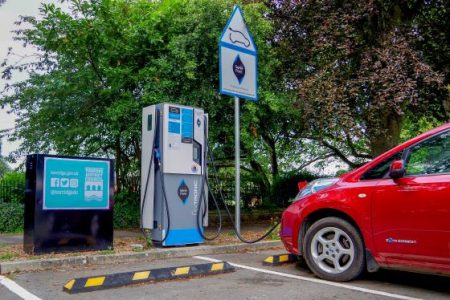 Matteo de Renzi, CEO of BP Chargemaster, said that the company expects the rapid chargers will bring new customers to the stores "as they are in the right locations to support those driving along the Strategic Road Network and provide a great opportunity a brief stop".
The site of the first three chargers is just off junction 7 of the M20, with the installation funded by investment from BP Chargemaster.
Helen Milford, director of stores for M&S, said: "As we create a store estate for the new world it's critical our shops are in the right locations, digitally connected and offer trusted value products and services such as the rapid chargers – we're looking forward to seeing the customer response to our trial in Maidstone."
Read more: Current
It's Time to Go Green!
If you would like to know more about Solar Panels and the PowerBanx range of home battery systems, and get a free instant quote, please complete our online form: