An electric car made by South Korean automaker Kia has taken home the prestigious What Car? "Car of the Year" award, beating out contenders like BMW's 3 series, the Jaguar i-Pace and the Renault Zoe.
It's the first time the South Korean automaker has won the coveted award, also marking a milestone in automotive history as the first time an electric car has taken home the award.
According to What Car?, the e-Niro won "by knockout" (as opposed to points), saying on its website that "it's the first sensibly priced electric car that can fit into most people's lives."
The battery electric e-Niro, a compact SUV with 455km range (WLTP), which also picked up "Electric Car of the Year" award, is due for release in the UK this April. Pricing was announced last December at £32,995 ($A57,000) after the UK's plug-in car grant is applied).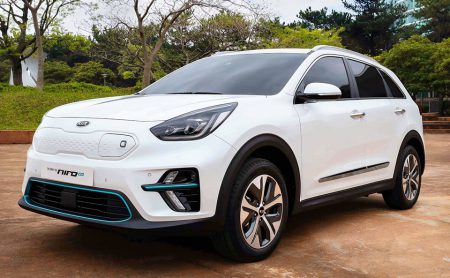 Affordability of electric cars remains a barrier to ownership for many – and this was a major factor of consideration for the What Car? judging panel.
"Uncompromised electric car ownership has, so far, been the privilege of those able to afford a Tesla, which is why the e-Niro is such a game-changer."
Other models in the running included the Jaguar i-Pace and Renault Zoe.
"While the Renault Zoe deserves credit for offering a decent range for less than £20k, and the I-Pace for giving Tesla buyers a better option, we think Kia's success in making a long-range electric car that's within the reach of many deserves the most credit," the judges said.
Read more: The Driven