After a couple of slow performances in previous months, in November, the European passenger plug-in market was back at cruising speed, with +31% year over year (YoY) sales.
There were some 37,500 registrations, pulling the year-to-date (YTD) count to 345,000 deliveries (+34%). In broader context, 2018 EV market share grew to 2.4%, thanks to a 3.2% market share in November.
But if on the surface everything seems to be back to normal, when you separate the fully electric (BEV) and plug-in hybrid (PHEV) powertrains, there are seismic changes. On the BEV side, sales (or I should say deliveries) jumped 96% YoY, the segment's highest growth rate since July '14. Fully electrics reached a record 23,000 registrations (61% share of all plug-ins), allowing them to (finally!) surpass PHEVs in the total year breakdown. This is the first that has happened since 2014. Historic month, indeed!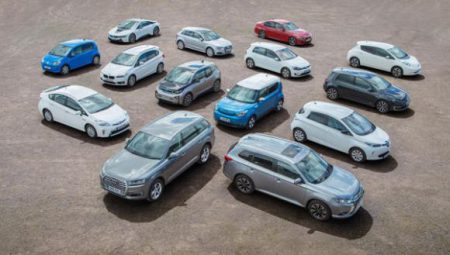 On the other hand, PHEVs continue feeling the sting of the new WLTP standard, with sales down (-14% in November) for the third month in a row, the segment's worst downward trend since … well, forever. Will PHEVs in Europe recover sometime in the future, or are they going to be swallowed by the upcoming BEV flood?
One thing is certain, BEVs start 2019 with the upper hand.
But the PHEV debacle isn't equal across all brands. Some automakers (BMW, Mitsubishi, Volvo…) did their homework and continue to thrive under the new rules, leading to some brilliant performances. In particular, the #3 Mitsubishi Outlander PHEV is soaring again.
In November, the top spots didn't have major surprises since sales were high across the board. Three of the top 5 best sellers last month hit record performances (the i3, e-Golf, and Zoe), while the Outlander PHEV had its best month since 2015. The leader, Nissan Leaf, didn't have a memorable score simply because Leaf output in the Sunderland factory is limited by the weight of the Qashqai production there. Maybe Nissan should think about sending units from the US to Europe?
Read more: Clean Technica