Mirror Motoring's Colin Goodwin says that in a torrid year for the car industry, MG was the fastest growing car brand – with spectacular sales for a good reason
Last year, as you have no doubt guessed, was a shocker for the car industry. Sales in the first lockdown were virtually non existent – and for the rest of the year dealerships struggled.
Unless, that is, they had an MG sign out front.
In 2019, MG was the fastest growing car brand registering 13,000 sales. And in 2020 it had beat that figure by September.
Why this spectacular performance?
It's simple really: MG makes cars that are very affordable, good value and crucially, many of them are electric. Like the ZS crossover which undercuts almost all EV rivals on price.
They're what we motoring hacks like to call 'honest' cars.
And now we have the latest MG model on test. It's called simply the MG 5 SW and it has the distinction of being the only pure electric estate on sale today.
Its positives well outweigh the negatives – and price is a big positive here.
To keep costs down it's sensible to keep your range of cars simple – and MG has done that with the 5 SW.
There are only two trim levels; the entry-level Excite which is £24,495 (including PICG) and the Exclusive at £26,995.
Not only do these prices undercut most rivals, they're lower than those for MG's own ZS.
This MG is no beauty – a bit like a Kia or Hyundai from a few years back. But so what? It's hardly ugly and you've got to remember that price.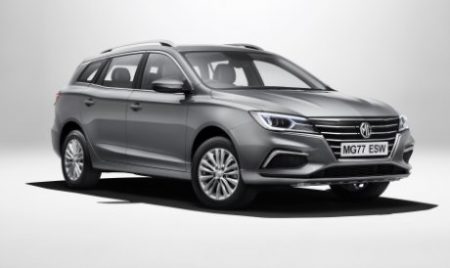 It's a similar story inside as there is a fair bit of hard plastic about the place. But I could live with that because of the simplicity and ease of use of the controls.
We're testing the dearer Exclusive which comes with leather-style upholstery, heated front seats, sat nav, roof rails and automatic wipers.
I'd save two and a half grand and stick with the entry level car. Not least because the satnav isn't brilliant and since both trim levels come with Apple Carplay and Android Auto you can use your phone for navigating.
Roof rails aren't a good idea on an EV anyway, they add drag.
Which brings us neatly onto range. The MG 5 SW is fitted with a 154bhp electric motor that's powered by a 52.5kWh battery of which 49kWh is usable.
Again, the MG thrashes its nearest price rivals including the ZS. The claimed WLTP range is an impressive 214 miles.
You can charge the MG using a rapid charger via a CCS-style connector at a maximum rate of 50kWh – which means you can take the battery from zero to 80% in 50 minutes. In theory.
I'm sure EV drivers will know it's not always possible to achieve 'book figures' for recharging.
I used a rapid charger on this and in half an hour had only added about 20kW.
Read more: Mirror
It's Time to Go Green!
If you would like to know more about Solar Panels and the PowerBanx range of home battery systems, and get a free instant quote, please complete our online form: