Ultra-fast EV charging provider IONITY has continued its UK expansion by penning a deal with Extra MSA Group, which owns and operates parts of the UK's motorway network.
Under the deal IONITY, which is a joint venture between automotive giants Daimler, Ford, BMW and Volkswagen, will install its HPC technology at eight MSA-owned service stations on UK motorways.
The service stations will be those under MSA's 'Extra' brand, and each site will initially comprise six 350kW chargers supplied by IONITY.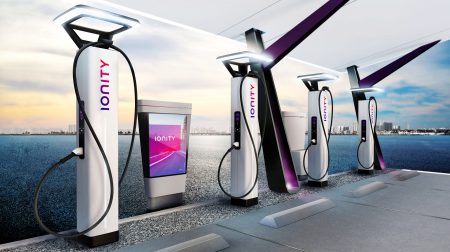 The first HPC station is to be installed at Extra's new location on junction 45 of the M1 at Leeds Skelton Lake later this year, with other installs already earmarked for locations in Cobham, Cambridge, Beaconsfield, Cullompton, Blackburn, Baldock and Peterborough.
Combined with other partnerships IONITY has already sealed, most notably with Shell and Motor Fuels Group, the charging firm said it was now closing in on its target of developing 40 HPC stations at strategic locations in the UK.
Read more: Current News