The Kia e-Niro is a five-door small electric SUV which will be competing with the likes of the Hyundai Kona electric, Nissan Leaf, Hyundai Ioniq and smaller Renault Zoe.
Arguably, the two biggest buzzwords in motoring right now are 'SUV' and 'electric'. The Kia e-Niro is both, which means it's probably on to a winner. The size and range of the e-Niro, along with its reasonable price, make it a very tempting package, that could sway some reluctant folk towards electric motoring. It does have a very credible rival in the Hyundai Kona electric, though.
The e-Niro is a small SUV, but its styling makes it look more like a raised-up estate car than a chunky off-roader. The electric version of the Niro has a few design features to differentiate it from the hybrid and plug-in hybrid variants, but it has been kept relatively conventional, and doesn't look too futuristic. As it's an electric car, the grille is closed off, and this is where the integrated charging port is. It also has redesigned air intakes, new LED daytime running lights, and a few blue trim highlights about the place. As well as redesigned front and rear bumpers, the e-Niro comes with new 17-inch alloy wheels.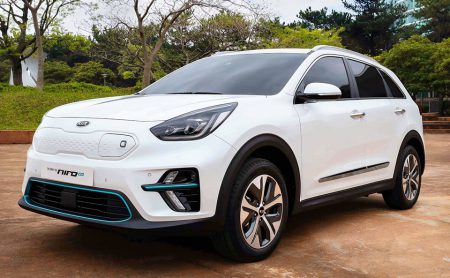 The e-Niro's interior is pretty conventional, too. If you've been in any other new Kia, you'll recognise the solidly built interior. You've got some nice soft-touch plastics on the dashboard and in all the important places, but there are some hard, grainy plastics further down in the cabin.
Like the exterior, there are a few bits exclusive to the e-Niro. The most obvious is that there's no traditional 'gear stick', which has been replaced by a rotating dial drive selector. That same panel houses buttons for the electronic parking brake – compared with the foot-operated parking brake of the hybrid – heated seats, heated steering wheel, parking sensors and the auto-hold function.
Design wise, there are some bright blue trims, along with some subtle mood lighting and high-gloss black panels (which will quickly get covered in fingerprints) on the doors.
The 8.0-inch infotainment system is easy to use from the driver seat, with clear graphics and logical menus. It's better than the system in the Hyundai Kona electric and Renault Zoe, and as easy to use as the Nissan Leaf's system.
Read more: Auto Trader