Electrification is one of the most significant trends in transport today.
Future demand for both electric vehicles (EVs) and the associated electric vehicle supply equipment (EVSE) will, of course, be driven by increased adoption of electric vehicles by individuals and businesses. In this post, I will be making the case that the economics of EVs prove particularly favorable for fleet operations, focusing on full-battery as opposed to plug-in hybrid electric vehicles (BEVs vs. PHEVs).
Electric Vehicles Have Operating Cost Advantage
Electric vehicles are cheaper to operate than those powered by fossil-fuels.
To start, electric powertrains have lower energy costs on a per-mile basis than internal combustion engines. They convert energy into motion more efficiently, with today's BEVs attaining the miles per gallon equivalent (MPGe) of around three times the MPG of their traditional counterparts. Electricity and gasoline prices vary significantly by region, with some countries imposing heavy taxes on transport fuel.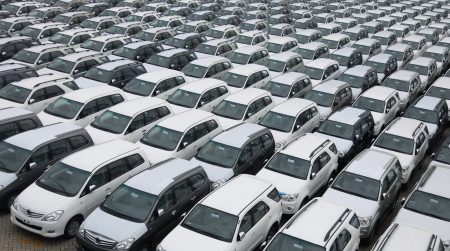 Beyond enjoying lower energy costs, BEVs have fewer moving parts than internal combustion engine vehicles (ICEVs) and forgo liquid fuels entirely. Below is a list of part replacements/maintenance/issues that BEV owners do not need to worry about:
Oil changes, oil filters
Spark plugs, wiring, ignition coils
Muffler, timing belt, catalytic converter, air intake filters
Fuel filters, fuel injector cleaning
Engine sludge
Emissions checks
Less frequent brake replacement due to regenerative braking
An EV owner does need to be mindful of their lithium-ion battery, as these lose charging capacity over time and may need to be replaced. Fortunately, data from drivers of Tesla and Chevy BEVs point to significant battery resilience.
BEVs are expected to last a long time thanks to their simplicity and lower number of moving parts. For this reason, an owner may find that when a battery does eventually wear out, it may make sense to replace it instead of buying a new vehicle. Furthermore, since grid/building operators are making use of Li-ion batteries to improve power quality and better integrate renewables, the residual value of a lower capacity BEV battery is expected to be far larger than the scrap value of an entire ICEV.
Read more: Arc Web