Pivot Power has opened Europe's "most powerful" electric vehicle (EV) charging hub in Oxford, with 42 fast and ultra-rapid chargers.
As part of the Energy Superhub Oxford project, the hub located at Redbridge Park and Ride could scale up to provide charging for 400 vehicles as EV adoption increases.
It will be entirely powered with renewable energy, with 10MW of installed capacity on-site.
"Electric vehicles form a key part of our strategy to decarbonise transport, so I'm pleased to see Europe's most powerful EV charging hub opening in Oxford," said Trudy Harrison MP, transport decarbonisation minister.
"Both the Government and industry, working together, are investing billions in projects like this to help provide the infrastructure to support the UK's electric revolution and soaring EV sales. This in turn will help us decarbonise transport, create high-skilled jobs, and provide cleaner air across the UK."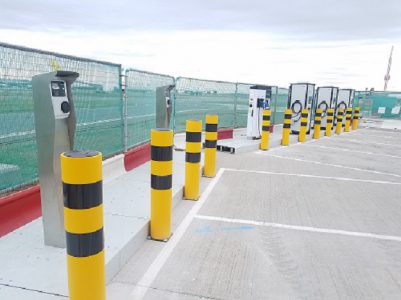 Several providers installed chargers at the facility, which has been developed by EDF Renewables subsidiary Pivot Power with the participation of the Oxford City Council, including 10 300kW charging bays from Fastned, 20 7-22kW from Wenea and 12 250kW Tesla Superchargers.
Read more: Current+
It's Time to Go Green!
If you would like to know more about Solar Panels and the PowerBanx range of home battery systems, and get a free instant quote, please complete our online form: