Don't look now, but we're officially a decade into the modern electric vehicle era. So how's it been going anyway?
Exactly 10 years last week, Jeffrey Kaffee of New Jersey got the keys to the very first Chevrolet Volt sold. The handover came just four days after Olivier Chalouhi took delivery in San Francisco of the very first Nissan Leaf sold in the U.S.
The Volt had an EPA-rated electric range of 35 miles, and the Leaf's all-electric range was only a bit more than twice that: 73 miles. But the Volt was marketed as a "range-extended electric car," just as hard to understand back then as the idea of a plug-in hybrid—and the Leaf was distinctly odd-looking. Still, no matter how compromised, they represented the cutting edge of automotive technology at the time.
Back then, the Tesla Model S had been announced in April 2009, but wouldn't struggle into production until 18 months after the Leaf and Volt launched—two years after Tesla's original launch date. The auto industry viewed it as a desperate long-shot idea by an arrogant Silicon Valley startup that had sold a few novelty $100,000 electric roadsters to rich tech bros, a niche player at best.
What a difference a decade makes.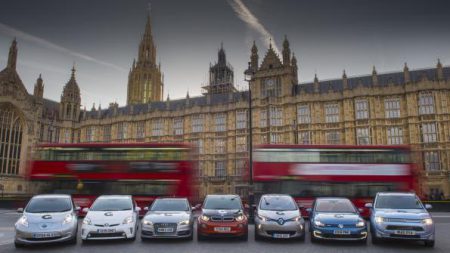 This month, there's an electric Ford Mustang landing at dealers. An electric Hummer is coming next year, which should permanently reset the image of EVs from polar bears to badass, intimidating, military-inspired off-road monsters. Ford and General Motors will offer additional EV pickup trucks within a couple of years.
Tesla has become profitable for successive quarters, it now builds cars in the U.S. and China and it will open two more plants—one in Austin, Texas, the other in Berlin—next year. Today it debuted on the S&P 500 index after a more than 700 percent increase in price this year alone. It is valued higher than the world's eight largest car companies, put together. It doesn't sell as many cars globally as, say, Subaru, but it'll build roughly half a million EVs this year. (And just for good measure, Tesla may launch a semi-tractor for freight hauling as well.)
Not bad for a company in only its ninth year of mass production.
From Climate Concerns to Badass Pickups
It's all because the world's regulators and even politicians accept the science of climate change, and understand that electric vehicles massively reduce the carbon-dioxide (CO2) emissions from wheeled vehicles in every sector—especially in China, the world's biggest car market and arguably the biggest driver of this shift to EVs.
Plus, cost reductions and performance improvements in lithium-ion battery cells soared over the last decade, at a rate far speedier than predicted when the Leaf and Volt got the green light in 2008 or so.
It's now clear the world will transition to electric vehicles over the next several decades. It'll take a long time, given 1.2 billion vehicles on the planet's roads today. But the progress over the last 10 years has been breath-taking.
Think back 10 years, to the very first zero-emission vehicle that launched in volume, the one that heralded hybrids' demise as the most advanced-technology vehicles on the road. That would be the 2011 Nissan Leaf.
Consider how it compares to the specs of today's electric cars—which require us to generalize, because there are so many across so many different categories—and to the charging infrastructure then available.
Read more: The Drive
It's Time to Go Green!
If you would like to know more about Solar Panels and the PowerBanx range of home battery systems, and get a free instant quote, please complete our online form: