ELECTRIC car sales were up again in October with a massive 151.8 percent boost from figures released 12 months ago as consumers jump to purchase eco-friendly vehicles.
New electric car registrations were boosted from just 1,256 in October 2018 to 3,162 last month. New sales of mild hybrid electric vehicles saw an incredible 378.1 percent rise in October 2019 compared to last year as sales of hybrid electric vehicles were also up 28.9 percent.
Battery electric vehicle sales are now up 125.1 percent year-on-year with almost 30,000 models sold and registered so far in 2019.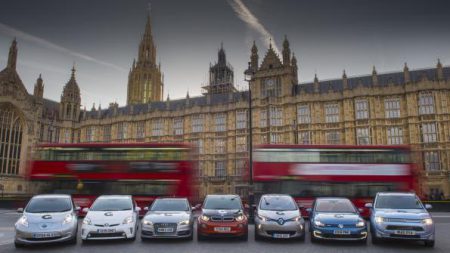 The Society of Motor Manufacturers and Traders (SMMT) data also revealed alternative fuelled vehicles now made up 9.9 percent of the overall UK car sales this month in a new record.
A total of 14,231 registrations beat the previous market share record of 6.9 percent.
Plug-in hybrid sales were down a minor 1.7 percent, while support for traditional vehicles fell away.
Last month's data showed petrol vehicle sales were down 3.2 percent on figures from October 2018.
Diesel sales are in terrible decline and plummeted to a 28.3 percent reduction on data from twelve months ago. The drop is the 31st consecutive month diesel sales have been in negative figures.
Read more: Express