"Every manufacturer feels like, 'We've got to at least have a dog in this hunt or we'll be completely left behind.'"
The future of the auto industry is going to look like the history of the cell phone. The two even share technology: the lithium-ion battery. As the world's automakers gradually switch from combustion to charging, some of today's dominant car companies will share the fate of a few former titans of the smartphone. Remember BlackBerry, Nokia and Palm?
"Who will be the winners in the electric car race? Who knows?" said Mike Ramsey, senior director of research at Gartner Inc. "The incumbents could be, or they could be cut out entirely."
This transition will play out as a plethora of electric options land in showrooms. In the next two years, an additional 85 battery-powered models will be marketed, bringing the global fleet to 357, according to the latest tally by Bloomberg New Energy Finance. Volkswagen AG is near the front of the pack, promising 20 new electric models by 2020 and another 80 by 2025. Just this month, the German automaker said the internal combustion vehicles being designed now will be its last.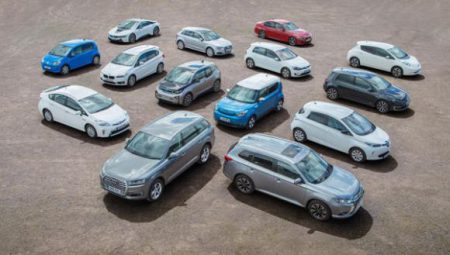 "Every manufacturer feels like, 'We've got to at least have a dog in this hunt or we'll be completely left behind,'" said Karl Brauer, executive publisher for Autotrader and Kelley Blue Book. "If you ignore it and act like the market is never going to be ready, then you're setting yourself up for real trouble."
Being first, however, is no guarantee of success. Honda's Insight promised a space-age 70 miles to the gallon on the highway when it rolled into dealerships as the first U.S. hybrid in December 1999. Yet the Toyota Prius, which reached the market months later, became the icon of greener wheels. A crowd of copycat hybrids arrived but none came close to matching the Toyota model's cachet.
"An entire segment can be sucked up by one or two models," Brauer said. Two decades later, the Prius accounts for almost half of electric vehicle sales to date.
The automaker that can capture this kind of icon status in the electric-vehicle space will be in a different gear for years. At the moment, Tesla Inc. appears to have that advantage, although there's probably room for another paragon vehicle or two—a more affordable SUV, for instance, or an electric pickup truck.
Read more: Industry Week