BMW and Porsche's prototype 450kW FastCharge unit can give 62 miles of range in just three minutes, once vehicle technology catches up
A new electric vehicle charger capable of delivering 100km (62 miles) worth of charge in just three minutes, and fully charging an EV's batteries in just 15 minutes, has been developed by a number of German companies, including BMW and Porsche.
The companies' 450kW (kilowatt) FastCharge system – while still a prototype – trebles the charge rates of the world's rapid chargers' at present, and promises "to make charging electric vehicles as fast and convenient as fuelling with petrol".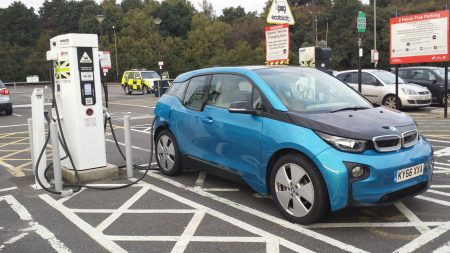 When operating at its maximum 450kW capacity, it has proven capable of replenishing a BMW i3 (fitted with a "specially developed high-voltage battery") from 10 to 80 per cent in just 15 minutes, and delivering 62 miles of range to a Porsche research vehicle in just three minutes.
While not technically a 'full' charge, this is representative of a full charge in real-world conditions, as manufacturers advise against recharging to 100 per cent, and most owners are unlikely to allow their batteries to drop below 10 per cent.
Read more: Auto Express