The Kia e-Niro is our favourite electric family car. It's a great compact SUV with a 282-mile official electric range and an affordable price
The Kia e-Niro is a compact family SUV with a claimed 282-mile range (on the WLTP cycle) from a 64kWh lithium-ion battery pack, and single electric motor that powers its front wheels.
If any of this is ringing any bells, that's because it's a non-identical twin to the Hyundai Kona Electric, which has shaken up the electric-car market by offering virtually double the driving range of almost any other model in the £30-£35,000 price range. That range is no hollow marketing line, either; we saw 250-260 miles in varied driving, including regular stints on the motorway.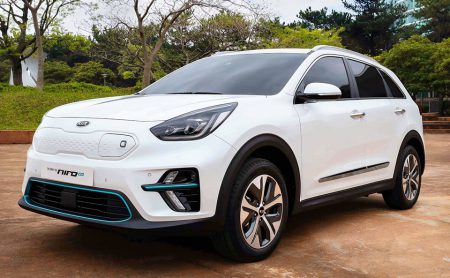 The Kia e-Niro differs from its Hyundai sibling in that it's a fraction larger and more spacious in the rear seats and boot, and is also only available in one high-spec trim that includes everything from leather seats to a full suite of advanced driver aids. It's also only available with this large battery pack, whereas the Hyundai offers the choice of a cheaper, 200-mile-range car.
Charging is done using a CCS or Type 2 cable that fits into the port in the car's nose, hidden behind that conspicuously vent-free, solid nose that's becoming a telltale sign of many electric cars. Standard cables include a Type 2 public charging cable and a three-pin plug for charging from a wall socket at home. As with any car featuring a large-capacity battery like this, the latter method will be torturously slow, with a full top-up taking some 29 hours. A dedicated 7.2kW charger of the sort that most electric-car drivers will have fitted at home, and are often found in car parks and town centres, will do the same in around nine hours.
Find a 50kW rapid charger in a motorway services and you'll get an 80% charge in 75 minutes, while the e-Niro is also capable of taking a 100kW charge (chargers of this performance will start to appear in 2019), which will do the same top-up in under an hour.
Read more: Driving Electric