Boris Johnson wants us all to live greener lives, but his own minister leading on climate change has admitted he is yet to swap his diesel car for an electric alternative. So how many politicians are actually putting their motors where their mouths are?
As part of its plan to lower carbon emissions, the government wants to ban the sale of new petrol and diesel cars by 2030, and hybrids by 2035.
So, in theory, by 2050 most cars on the road should either be electric, use hydrogen fuel cells, or some other non-fossil fuel technology.
Mr Johnson has said the move towards electric cars is part of a "green revolution", but is he leading by example?
Well, not really. The one-time keen cyclist is now driven around in government cars, which the prime minister says run on "hydrocarbons" – ie fossil fuels.
Electric vehicle sales outpace diesel again
Electric car charging prices 'must be fair'
Service station namesake has big motorway plans
However, he has promised he was trying to phase them out as "conveniently and economically" as possible.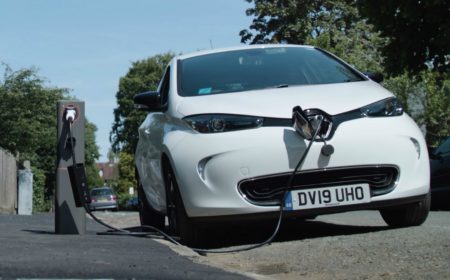 The most recent figures from the Department for Transport show that currently nearly 65% of vehicles in the government's car service – which ferries ministers from place to place – are electric or hybrid. The service's old cars are put up for auction.
Another minister who aspires to do better is Alok Sharma – the man leading the COP26 climate change conference, due to be held in Glasgow this November.
On Monday, he told the BBC's Newsnight programme that he "along with millions of other people" owned a diesel car.
"I don't drive it very much," he quickly added and sought to assure viewers his next car "would certainly be electric".
Hybrid and electric, what's the difference?
Both hybrids and electric cars are capable of driving on electric energy alone. It's just a matter of battery size
Hybrid cars have a small battery under the rear seats which stores power as the car comes to a stop. This is done using regenerative braking
Plug-in hybrids have a slightly larger battery, are quick to charge using a standard power socket and can usually hold enough charge to travel around 30 miles. After this, the conventional petrol engine kicks in
Both hybrids and plug-in hybrids still need to be filled with petrol or diesel
Full electric vehicles have huge batteries which make up the whole floor of the vehicle – some can get over 400 miles on a single charge
"Mild hybrids" have the smallest batteries, and these simply power components in the car that would have otherwise run off the engine
They don't provide enough power to run the car on electric power alone.
Read more: BBC
It's Time to Go Green!
If you would like to know more about Solar Panels and the PowerBanx range of home battery systems, and get a free instant quote, please complete our online form: