Sustainability pioneer Ecocabs, a taxi operator in Hexham in the North East of England, are proud to announce the arrival of the first Ford Tourneo Custom Plug-In Hybrid Vehicle (PHEV) to be operated anywhere in the UK.
Technology is developing all the time, but currently all-electric vehicles cannot fulfil the operational demands of a rural taxi service in terms of practicality due to the limited range and lack of fast charging points. This is where the hybrid vehicle makes much more sense for a rural operator currently.
The vehicle is purpose-built to help transport passengers more efficiently than ever. Smart, hybrid technology helps keep emissions to a minimum, whilst intelligent design creates a refined and sophisticated interior for passengers.
Commenting on the purchase of the eco-friendly 9-seater vehicle, Matthew Kirkby, founder and Managing Director of Ecocabs, said, "Sustainability remains top of our agenda at Ecocabs, and the introduction of the new Ford Tourneo continues our commitment to cutting the CO2 emissions of our fleet, and reducing our overall impact on the environment."
About Ecocabs
Ecocabs — the sustainable taxi, travel and tourism support company, based in Hexham — provides community taxi services in Tynedale and surrounding areas, and supports sustainable travel and tourism across much of Britain.
Ecocabs offers guided tours and support to increasing numbers of health-conscious, eco-aware travellers and tourists seeking more sustainable holidays and pastimes. Based in Hexham — close to the Hadrian's Wall Path and Hadrian's Cycleway — Ecocabs is ideally situated to support walkers and cyclists wishing to experience the history, countryside, sites and attractions along the Roman Wall.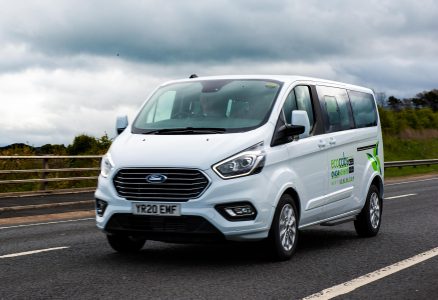 Ecocabs also supports cyclists tackling the various coast-to-coast cycle routes, as well as the Sandstone Way — the 120-mile mountain biking route between Berwick upon Tweed and Hexham. Further afield, Ecocabs supports nationally known activities, including the 3-Peaks Challenge, during which walkers scale the three highest mountains of Scotland, England and Wales — Ben Nevis, Scafell Pike and Snowdon — all in 24 hours.
About the Ford Tourneo PHEV
The new Ford Tourneo Custom Plug-in Hybrid (PHEV) uses two sources of power to get passengers where they need to be more efficiently than ever. An advanced electric powertrain, with zero emissions, can be used for shorter trips, while on longer journeys the multi award-winning 1.0 litre EcoBoost engine kicks in to extend the Tourneo's range. The vehicle uses technology designed to maximise efficiency without compromising on the reliability and flexibility customers expect in a Tourneo.
Source: Ecocabs
It's Time to Go Green!
If you would like to know more about Solar Panels and the PowerBanx range of home battery systems, and get a free instant quote, please complete our online form: