Nissan has turned its all-electric Leaf hatchback into a Christmas tree, powering an extensive array of lights from the car's regenerative braking energy systems.
The one-off vehicle utilises the manufacturer's e-Pedal and B mode to power the model's 'spectacular light display', including thousands of LEDs.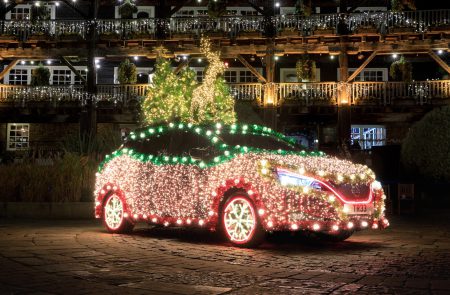 Helen Perry, head of electric vehicles for Nissan Europe, said: "Santa shouldn't be the only one with a festive mode of transport. We wanted to make the Nissan Leaf more fun at this time of year whilst driving home a very important message.
"We hope this custom-made vehicle inspires people about the benefits of regenerative energy."
The difference between the two regenerative braking systems mentioned is that while the e-Pedal harvests energy from the movement of the car during braking or deceleration, feeding it back to the batteries, B mode is a driving function that regenerates energy when using the traditional brake pedal as normal.
The Nissan Tree was created as a means to showcase the benefits of regenerative energy, emphasising that the average Leaf driver regenerates 744kWh of clean energy if they drive 11,000 miles – equivalent to 20 per cent of the overall domestic electricity consumption of an average household.
Read more: Motors
It's Time to Go Green!
If you would like to know more about Solar Panels and the PowerBanx range of home battery systems, and get a free instant quote, please complete our online form: