While Benefit-in-Kind has always worked in the favour of electric and plug-in hybrid models, it's about to get much better for these vehicles from March 2021.
That's because from 2020, the government is completely scrapping Benefit-in-Kind (BiK) for all-electric models – meaning that there has never been a better time to get behind the wheel of an EV as your company car.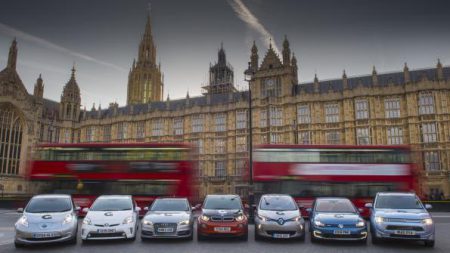 Let's have a look at the five best options available today.
Nissan Leaf
As one of the UK's most popular electric cars on sale, the Sunderland-built is clearly doing something right to appeal to buyers. But aside from private buyers, the Leaf has long had lots of appeal to companies – featuring in fleets across the country.
And from April 2020, that appeal will elevate dramatically when BiK drops from its current 16 per cent rate. So, while someone in the 20 per cent tax bracket will currently pay £1,048 per year in company car tax, that will soon drop to zero.
BMW i3
If you want to convey a more upmarket image from your company car, the funky and unique BMW i3 is a superb choice. From its zippy powertrain through to its interior made from recycled materials, this is a fantastic EV.
And from next year it will be an excellent electric car to choose, whereby the average annual company car tax bill for an i3 will drop from £1,129 per year to absolutely nothing. It's worth noting that, as with all the other models here, the zero per cent BiK applies to those paying tax at 20 and 40 per cent as well.
Audi e-tron
If your company is a bit more generous, or you need something a bit larger than the models here, the premium Audi e-tron SUV is a superb choice. Offering seating for five, a generous boot and a wonderfully techy interior, this is a true statement model.
Read more: Car Keys
It's Time to Go Green!
If you would like to know more about Solar Panels and the PowerBanx range of home battery systems, and get a free instant quote, please complete our online form: