Earlier this year, we were seriously impressed by the new Nissan Leaf. The original mainstream electric car had, in second-generation guise, moved the game on again. Those seeking a (relatively) affordable EV need look no further.
But it's a sign of how quickly the electric car market is developing that the new Leaf has already been outsmarted by a brand-new electric car from Kia: the e-Niro. The firm is very excited by it, and says it simply won't be able to meet expected demand when it goes on sale in April 2019.
Why the excitement? Because, unlike the now-meagre 40kWh battery pack in the Leaf, it offers a far greater capacity of 64kWh. The range improves accordingly: in latest-era WLTP testing, the Leaf achieves 168 miles. The e-Niro can cover 282 miles. That's a vast, 114-mile advantage.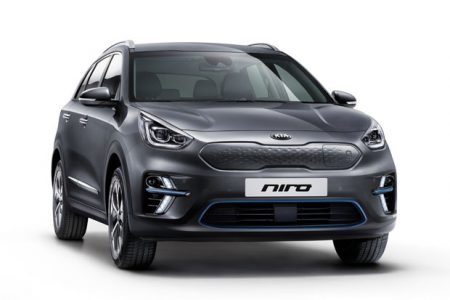 Of course, it costs more – adding capacity to batteries is expensive – but it's not as pricey as you'd think. After the Plug-in Car Grant, the Leaf costs from £26,190, or £29,390 in top-spec guise. Kia's only selling the e-Niro in range-topping First Edition form – for (post-grant) £32,995.
For early adopters, more range is more important than paying less. Kia already has an enormous advantage here. And, as we'll see, it's not the only area in which the e-Niro betters the Leaf.
First impressions
The Kia Niro has been on sale for a couple of years, first as a hybrid and later as a plug-in hybrid. The e-Niro is the third electrified version – making it the only crossover SUV on sale with three choices of alternative fuel power.
It sits neatly between the Ceed family hatch and the Sportage SUV. Length of 4,375mm makes it 115mm shorter than a Leaf, but it's wider and taller. It's visually squarer too, a more space-efficient shape than the angular Leaf, with contours on the sides taking the edge off its boxiness.
You can tell an e-Niro apart from a regular Niro because the electric version has new front and rear bumpers. The front end has lots of blue accents and 'arrowhead' daytime running LEDs. It also has a closed-off grille, into which the charge socket is integrated. Polished 17-inch alloys are standard.
Read more: Motoring Research