KIA has confirmed that the new Niro EV's real-world range which rivals the likes of Tesla and beats car such as the new Jaguar I Pace, Audi e-Tron and Mercedes EQC but will cost half the price.
Kia has confirmed the impressive real world range for the new Niro EV.
It will be able to achieve range of up to 301 miles on a single charge when it goes on sale towards the end of 2018.
Powering the car is a high-capacity 64 kWh lithium-polymer battery.
Its range was confirmed on the WLTP combined cycle. On the WLTP 'urban' test cycle, the e-Niro is capable of travelling for up to 382 miles (615 km) – further than many petrol cars.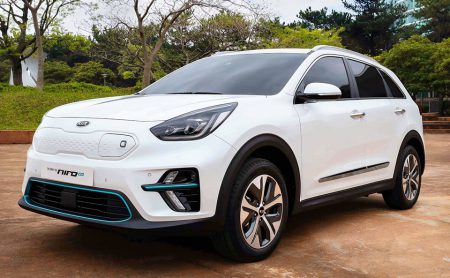 Kia has also optimised the battery to be able to use a 'fast charger.'
When plugged into a 100kW fast charger the Niro's battery pack can be recharged from zero to 80 per cent in just 54 minutes.
There is also a smaller 39.2 kWh battery pack variant which produces 193 miles of real-world range on a single charge.
Models equipped with the 64kWh battery pack are paired with a 150 kW (204 ps) motor, producing 395 Nm torque.
This allows the vehicle to sprint from zero-62mph in just 7.8 seconds.
Standard 39.2kWh battery pack variants are paired with a 100 kW (136 ps) motor, also producing 395 Nm torque.
It enables the car to travel from zero-62 mph in 9.8 seconds.
The car is expected to costs around £30,000 when it goes on sale which makes it over half the price of a lot of its rivals including the Tesla Model X, Jaguar I-Pace, Audi e-Tron, and Mercedes EQA.
Read more: Express