Download your Complete Guide to Why Electric Cars are Fantastic in Milton Keynes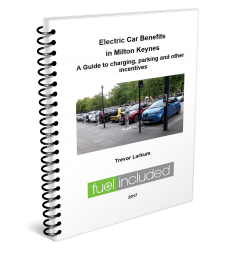 This guide will tell you all you need to know if you commute to or live near Milton Keynes. The benefits are tremendous and include: 
Lots of charge points in and around Milton Keynes

How to get free parking 24x7 in Central MK (with a green parking permit)

How to get free parking at Milton Keynes railway station

The council charge point promise

The Experience Centre, with free test drives and lessons

Planned future benefits, e.g driving in bus lanes

... and more.
Just enter your details and you'll get to a download page to receive your guide.
You're just a minute from having what you need to know to get the best out of driving an electric car in Milton Keynes.
We'll also send you a free weekly newsletter with electric car prices and news (cancel anytime).