An investment opportunity of up to £6 billion is available to 2040 owing to the need for millions of electric vehicle chargers at workplaces, shops and motorway services, according to a report out this week.
Released by Aurora Energy Research and supported by Eaton, NatWest, Lombard and the Renewable Energy Association, the study states the number of chargers needed at commercial and industrial (C&I) units could hit 3 million.
This would occur under a high deployment scenario with 35 million EVs on the road in Great Britain, as demand for charging facilities away from the residential sector increase.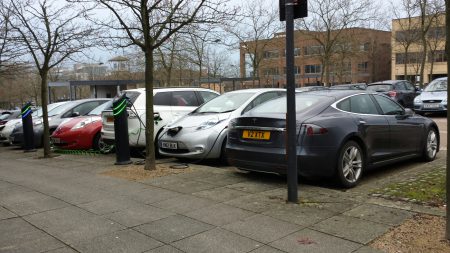 Demand for these would be spread across fleet vans, workplace commuters, pubic car parks, and motorway stops, requiring between £2 billion to £6 billion of investment to fund the total cost of equipment and installation.
Dr. Felix Chow-Kambitsch, head of flexible energy and battery storage at Aurora said:
"High electric vehicle deployment over the next twenty years will radically transform Great Britain's energy system, stimulating innovation through a shift to 'smart', increasing flexibility and enhancing the role of renewables in the energy mix.

"Commercial and Industrial 'smart' charging has a key role to play in meeting high levels of consumer 'away-from-home' EV charging demand and represents an exciting development for the whole energy industry."
Read more: Current News